Blast from the past
Posted on: May 11, 2016, by : Carrie Pack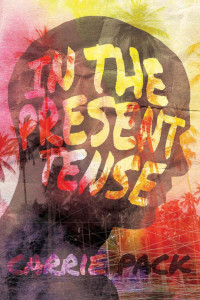 With just eight days until the release of In the Present Tense, I thought I might give you a glimpse of the future (sometimes we'll visit the future via the past; after all, timelines get confusing when you're constantly jump through time). Every day between now and May 19, I'll be posting a snippet or quote from In the Present Tense.
Today's preview comes from the past. Monday, August 31, 2009, at 1:25 P.M. to be exact.
Miles traced the pattern of tiles with his left foot while he waited for the bathroom to clear out. A urinal flushed and then the faucet sputtered to life for a second before it was silenced, followed by the telltale sound of paper towels being wound off the roll and torn haphazardly. There was a muffled cough, the creak of the door and then nothing. Miles counted to ten before undoing the latch. Peering out from his stall, he could see he was finally alone. His heart raced, as it did every time Matthew Butler walked by, or smiled or existed. Miles had just barely managed to duck into the stall before half the basketball team caught him gawking at their star forward, and he had waited until they all left before revealing his presence.
Miles nearly jumped out of his skin when he heard the toilet two stalls down from him flush. The door slammed open to reveal a skinny Asian boy with jet black hair and glasses wearing a Fitz and the Tantrums T-shirt. White earbuds hung from his ears and disappeared into his right jeans pocket. He gave Miles a cursory glance and smirked.
"You look like your mom caught you whacking off," he said, pulling out one of the earbuds.
Miles rolled his eyes. "You just startled me," he said. "I thought I was alone."
"Do you need to be alone?"
The boy's quirked eyebrow made Miles realize how creepy he sounded.
"No!"
"Settle down, dude. I was just teasing. Name's Adam."
"I'm Miles. You new here?"
"Transferred from Texas. Land of excellent Mexican food and questionable politics."
Miles laughed. He liked this kid.
"We should hang out or something. I can show you around."
"Cool."
The bell rang and both boys realized they were late for their next class.
"Where you headed?" Miles asked.
Adam pulled a wrinkled slip out of his pocket. "Uh, room 347, Mr. Hathaway."
"You're in band? Me too! What do you play?"
"Drums. You?"
Miles grinned widely. "Living the drumline dream."
"Don't ever say that again," Adam said, holding the door open for Miles to walk through.
"If you can't handle that, you're gonna hate the chants Mr. H makes us do."
"Kill me," Adam said with an exaggerated eye roll.
"Not on your first day."
---
In the Present Tense will be available May 19. Pre-order a print copy direct from Interlude Press and get the ebook bundle free! Also available at these retailers: