Designs On You
ISBN 13: 978-1-941530-04-7
Release Date: August 2014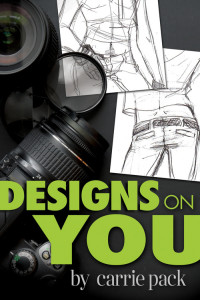 If graphic designer Scott Parker has to design one more cupcake company logo, he might lose it. When tasked with retouching photos for a big fashion client, a stunning, lanky model mesmerizes Scott and occupies his fantasies long after the assignment is finished.
When the model is assigned to one of Scott's projects, Scott discovers that the object of his desire is nothing like what he imagined. Despite Jamie Donovan's aloof and dismissive behavior, Scott struggles to forge a friendship with him, all the while trying to keep his attraction at bay.
Will Jamie follow through on signals that he may be interested, or will he forever be the beautiful man in the photograph, an untouchable fantasy?
Available from Interlude Press and major booksellers.
---
Praise for Designs On You

"Holy slow burn Batman…. You can't help but love Scott and Jamie. Even if they both need to get their heads and their hearts on the same page." — Prism Book Alliance
"I would highly recommend this book for anyone looking for a fun, funny and sexy story that will also encourage you to think." — Killian B. Brewer, author of The Rules of Ever After
"I definitely recommend this for those who want a quick read with a great romance." — Books On Silver Wings