In the Present Tense
ISBN 13: 978-1-941530-78-8
Release Date: May 19, 2016
I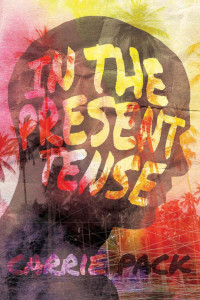 n the Present Tense received the 2016 Foreword INDIES Book of the Year Bronze Award for Science Fiction and was also a finalist for Book of the Year in the LGBT category.
Miles Lawson goes to sleep dreaming of a future with his boyfriend Adam, but wakes to find he is married to Ana, an acquaintance from high school. When he learns he has been time traveling, Miles is consumed with finding a cure for his rare condition—and finding his first love.
Traveling more frequently, Miles assembles the puzzle pieces of his life and, in doing so, alienates his wife. As he loses control, Miles must realize that sometimes fixing your past mistakes means changing your future. But will he be able to convince Adam he is telling the truth before it's too late?
Available from Interlude Press and major booksellers.
---
Praise for In the Present Tense
A 2016 Foreword INDIES Book of the Year Award Winner for Science Fiction (bronze) and a finalist for LGBT fiction.
"What a thrilling story! I recommend this sci-fi mystery as one not to miss." — USA Today Happy Ever After Blog
"When Miles is betrayed in the worst way, In the Present Tense escalates to a frightening pitch right before reaching a happy ending."— RT Book Reviews
"In the Present Tense is a hand-wringing, exciting novel you'll love to read for both the thrill and the romance it offers." — Alysia Constantine, author of Sweet
"This is hands down one of the best books I've read this year, and I'm definitely adding it to my "read again" pile so I can spot all the clues knowing the outcome." — A.M. Leibowitz, author of An Act of Devotion