Let's do the time warp again
Posted on: May 14, 2016, by : Carrie Pack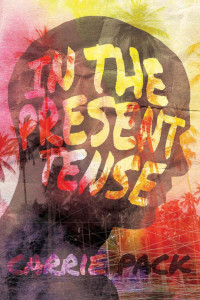 With just five days until the release of In the Present Tense, I'm giving you a glimpse of the future (sometimes we'll visit the future via the past; after all, timelines get confusing when you're constantly jump through time). Every day between now and May 19, I'll be posting a snippet or quote from In the Present Tense.
Today's journey takes us to Wednesday, April 15, 2020, at 1:35 P.M.
"It's so strange," Adam said, sitting in one of their porch chairs. Anthony sat next to him, offered him a sip of his beer. Adam declined. "I haven't seen him since high school and then out of the blue, he's on our front porch in the middle of the day."
"I think he was curious about what happened to you. I know I would be."
"There is a thing called Facebook," Adam said.
"You know, I think I've heard of it." Anthony refused to get a page, or use any social media for that matter. Apart from helping Adam with some stuff for the band, he resolutely remained disconnected from hashtags and memes.
"I'm just saying he could get all of that without leaving his house. Why drive all this way only to turn around and leave without seeing me?"
"Search me. Was he always such a weirdo?"
Adam thought about it before shaking his head. "He was a sweet kid. Great boyfriend as first loves go. We broke up just after senior year, and that was the last I've seen of him."
"Why haven't you mentioned him before?" Anthony picked at the label of his beer in a way that made Adam realize he was feeling out the situation, and probably wondering how Adam felt about Miles.
"Honestly, I haven't thought about him in years. Until today, it hadn't occurred to me to ask. We grew up, moved on, you know?"
"Was he that hot in high school?"
Adam laughed, and it echoed off the stucco. "He was cute in a boyish way. Good to know he turned out hot, though." He nudged Anthony's knee with his own.
"I have eyes, babe. Just call 'em like I see 'em."
---
In the Present Tense will be available May 19. Pre-order a print copy direct from Interlude Press and get the ebook bundle free! Also available at these retailers: