Character preview: Miles Lawson
Posted on: May 16, 2016, by : Carrie Pack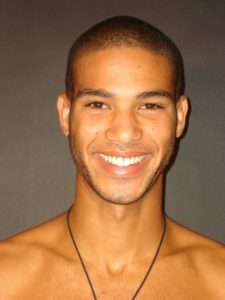 With just three days until the release of In the Present Tense, I'm giving you a glimpse of the future (sometimes we'll visit the future via the past; after all, timelines get confusing when you're constantly jump through time). Every day between now and May 19, I'll be introducing you to the main characters from In the Present Tense.
Miles Lawson
Age: 25 (sometimes 17; time travel is complicated)
Hair: brown
Eyes: brown
Visual Inspiration: Nate Gill
Mother: Gabrielle Jackson Lawson
Father: Mitchell Lawson
Wife: Ana Espinosa-Lawson
Occupation: copyeditor/freelance writer
Likes: pork rinds
Dislikes: wearing shoes
About: Miles goes to sleep dreaming of a future with his boyfriend Adam, but wakes to find he is married to Ana, an acquaintance from high school. When he learns he has been time traveling, Miles is consumed with finding a cure for his rare condition—and finding his first love.
Traveling more frequently, Miles assembles the puzzle pieces of his life and, in doing so, alienates his wife. As he loses control, Miles must realize that sometimes fixing your past mistakes means changing your future. But will he be able to convince Adam he is telling the truth before it's too late?
---
In the Present Tense will be available May 19. Pre-order a print copy direct from Interlude Press and get the ebook bundle free! Also available at these retailers: