Release day!
Posted on: May 19, 2016, by : Carrie Pack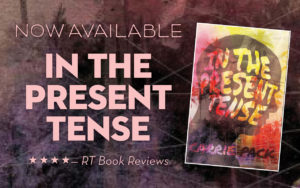 It's release day, and that means you can get your hands on In the Present Tense … finally. It also means it's the start of my Virtual Book Tour (VBT). I hope you'll join me for some great interviews and guest posts, and don't forget to enter the giveaway where you could win a $25 Interlude Press gift card!
Today's stops on the Virtual Book Tour include:
Pride Promotions  and Oh My Shelves where I did a couple of interviews from Miles's point of view.
Sinfully Addicted to All Male Romance where I talk about my writing process and inspiration. They also have a really awesome promo graphic… I'm obsessed.
Happily Ever Chapter where you can get a glimpse of the future. Be sure to follow HEC on Facebook. It's an all-around great resource for new releases.