What I'm reading this week
Posted on: September 17, 2017, by : Carrie Pack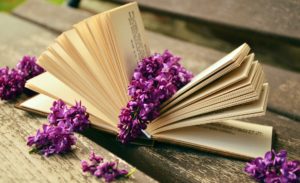 Hopefully this will be the first of many posts about books I'm currently reading. This installment features Island of Exiles (Book 1 in the Ryogan Chronicles) by Erica Cameron and A World Without You by Beth Revis (which I'm technicaly listening to as an audiobook).
Things I'm loving: Island of Exiles is such a lush world, despite taking
place in a desert. The setting, characters and plot are all richly crafted. I'm dying to finish this one. I hope book two comes out soon because I have a feeling I'm going to want to dive right in again.
I started listening to A World Without You on my way home from Hurricane Irma evacuation because I had met Beth Revis at a Malaprops Bookstore event in Asheville, NC. I knew she had written the Star Wars: Rogue One prequel Rebel Rising, but when she mentioned a time-traveling, mentally ill character, I knew I had to read this book. Knowing I would be trapped in a car for several hours had me opting for the audiobook. I'm loving the narrator and so far the story has me wondering. I've heard it keeps you guessing until the end, so I'm dying to finish it as well.
Related recommendations: Beth Revis was kind enough to host a Q&A for me and fellow YA author F.T. Lukens at Malaprops and we talked about our writing process and read random snippets from our books.
Check out F.T. Lukens' The Rules and Regulations for Mediating Myths & Magic. It's a great coming-of-age tale juxtaposed with the world of myth and magic. Main character Bridger just can't seem to get his shit together to follow through on his crush on the cute boy next door. Supporting characters Astrid and Leo are also charmers, and mentor Pavel is a gem.
Up Next: After I finish these two I think I want to dig into a dollar store find that I hadn't heard of before and I can't remember the name of. But I'll keep you posted. In the meantime, what are you reading?