Big announcement!
Posted on: July 15, 2018, by : Carrie Pack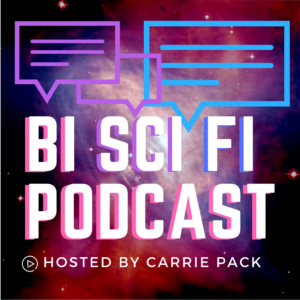 So I've been planning this for a while but finally got it off the ground this week. I give you the first ever episode of the BiSciFi Podcast.
Despite the name, I hope to cover all types of queer-positive speculative fiction, and I'd love to have your input. Let me know what you want to hear. Interested in being a guest? Use the contact form to tell me what you want to talk about.
Ready to listen? Episode 1, featuring authors Taylor Brooke and F.T. Lukens is available for download now (and will hopefully be available on iTunes soon… just waiting on the powers that be at Apple to give it the all-clear!)
Also, be sure to follow the podcast on Twitter and WordPress to stay up to date on episodes, upcoming guests and tons of BiSciFi recs! And if you're looking for great background tracks for your own media projects, check out Twisterium. I got the awesome theme music from them.